St.Jamaica Oxtail Marinade
Product by: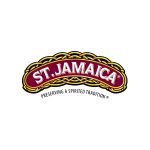 ST.JAMAICA OXTAIL MARINADE
A mild spicy savory marinade and grilling sauce with a kick.
Everyone loves Jamaican Oxtail!. Add just the right amount of spicy, savory mild zingy mariande to Stews or Grilled meats with this robust authentic Jamaican Oxtail Mariande. Use this World class Jamaican Oxtail Marinade as  for meats, poultry or fish.
Capturing the nostalgic mouth watering delight of oxtail lovers and the people who cannot forget that visit to Jamaica, getting that authentic taste of good old traditional Jamaican home cooking…consider this a gift from ST.JAMAICA. Just pour it on your OXTAIL. let it set..cook..enjoy.
USAGE TIPS
This marinade is traditionally applied to oxtail.
You can use our marinade just on about any of your favorite meat such as pork,chicken, beef or lamb.
Create that perfect stew the authentic Jamaican way.
INGREDIENTS
Water, Onion, Scallion, Salt, Thyme, Ginger, Scotch Bonnet Pepper, Caramel Color, Pimento (Allspice), Caramelized Sugar,  Cane Sugar, Cane Vinegar, Approved Spices, Sodium Benzoate (Preservative)
AVAILABLE SIZE
11.83 FL.OZ (350ML) X 12
CASE DIMENSION
25.4cm L x 19.9cm W x 21cm H
CASES PER PALLET
80 Cases